Adj positive 1.25VDC to 24VDC PS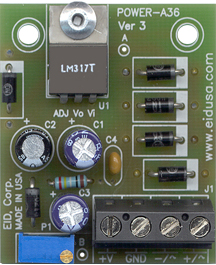 Adjustable Output Positive Voltage Power-Supply Kit (Adj. output 1.25V to 24 VDC) is an electronics board (kit) that allows you to connect up to 30V AC or DC on one side of the board and get adjustable VDC regulated on the other side. Every lab should have a few of these boards handy. The boards will allow you to easily power all your analog components (i.e. op-amp). The Terminal Block TB connector is included and makes it easy to use.
Enclosure
All Enclosures are in stock. Choose from Die-cast Aluminum, Plastic and Metal enclosures. We can cut, mill and drill them for you to any size and shape. Good news for the hundreds who call about the "Hammond Manufacturing" line of products! Yes, we carry the flagship racks, aluminum, plastic and metal enclosures by Hammond Manufacturing TM Electronics Group.
Erlich Industrial Development Corporation – high-end computerized lab equipment, accessories and sensors.