Hobby and Do-It-Yourself Projects, DIY Electronics, Gadgets News. Hobby DIY Garage – Electronic Projects
Amps-n-Volts html Newsletter which later became Amps Volts eMag on WordPress. It is now Hobby DIY Garage. Strictly Hobby, Gadgets and Craft with greater weight for electronics hobby.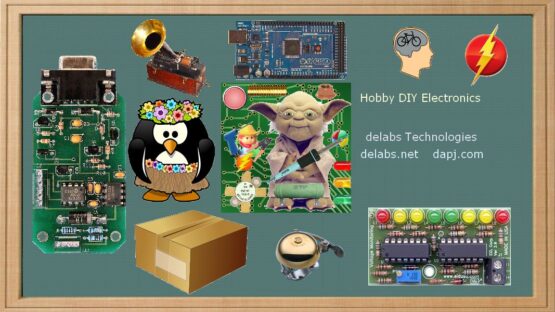 About Olden Circuits
Some Vintage Electronics Schematic Diagrams are also available, these circuits are from Semiconductor Application Books and other product catalogs. These are presented for Educational Purpose only, these books are obsolete and not available for students either in electronic or published forms. These Circuits are to be used for Learning Electronics and its application. This is provided for Students as Reference Material. For any Clarification or Communication, please Contact delabs.
Privacy Policy of delabs
delabs Sites does not collect or ask the visitor to provide any personal or private information. delabs Sites does not use any technical or other mechanisms to obtain your name, email, phone, address or any other personal information. delabs understands the importance of user privacy and will ensure that private information is not collected by the web pages or software at delabs Sites.
Communication
Communication in delabs Sites is done by email, contact forms and Instant messenger, The Visitor can use the forms to give details on his own accord and consent. This information is used to reply and solve a technical issue. The email, name or other details are not used by delabs for any other purpose and is kept confidential.
Linking
delabs Sites links to many website and pages and publishes only the details provided on that website. These may be like the product, services or marketing information that the webmaster of that site has published for public view. delabs Sites takes utmost care while linking to quality content pages of companies and individuals. The visitor is requested to observe caution when he visits an external link, by means of search, advertisements, content pages or companies.
Circuits FAQ
In the Circuits FAQ which answers Technical questions of users, The Question Answer Thread for free support is published with the Initials of the Name or Nickname of the user. This is only done, when a problem is solved free of cost. No Personal details of the Visitor is collected, the email is kept confidential.
Statistics and Browser
The Advertisements, Web Stats, Registered User Login, Gadgets etc. placed in delabs Sites do not collect any personal information. They may use cookies, geographical data from Browser and IP to improve user experience.
Third Party Advertisements
delabs Sites uses third-party advertising companies to serve ads when you visit the websites. These companies may use information about your visits to this and other websites in order to provide advertisements about goods and services of interest to you.
Security
delabs Sites hosting is secure and precautions are taken to make the Web Applications safe for user. There are rare possibilities though, Just like any website, the security could be breached and website compromised.
Contact delabs
You can give a feedback or get clarification from delabs on any issue or doubt you have about delabs Sites using  delabs desk
delabs Websites
All delabs Sites are also available on SSL that means Secure and Private Data over the web. Use https:// Prefix.
The Above URLs are of the Websites of delabs, Indicated as the delabs Sites in all references above.
delabs, dapj, Anwheel and EEMetric are brands of delabs Technologies.
delabs Technologies
See Also – Advertising in delabs and dapj Sites