BitScopes are USB or Ethernet connected PC Based Mixed Signal Oscilloscopes. This means they capture and display one, two or four analog signals and eight logic or timing signals, simultaneously. Any BitScope can be used as a Digital Storage Oscilloscope, Logic State Analyzer, Spectrum Analyzer or Data Recorder.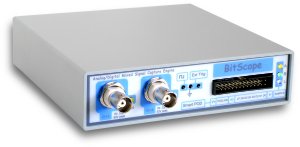 Bitscope – PC Oscilloscopes And Analyzers
BS325 is a classic 2+8 channel BitScope which combines deep capture high performance mixed signal data acquisition and full network connectivity in one compact unit.
BitScope 325 – PC Oscilloscope
BS325 connects via ethernet and is electrically isolated from the host. USB adapters are also available.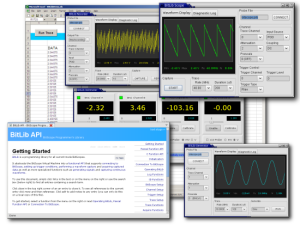 BS325 is user programmable, software extendable and can be integrated with third party software.
To make this easy the BitScope Library is available for BS325. The library can be used to create custom applications or to integrate one or more BS325 units into specialised testing and data acquisition systems.
The library is included as standard with BS325 and is compatible for Windows, Linux and Macintosh platforms.